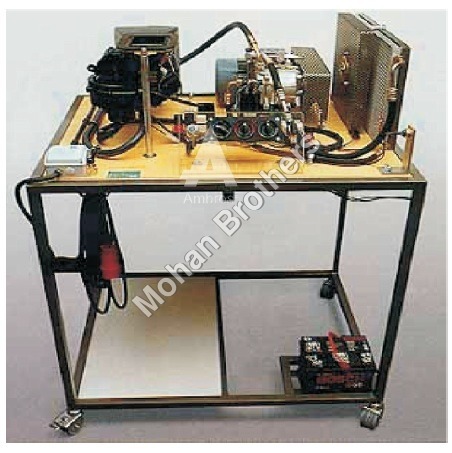 Automotive Air Conditioning Trainers
Product Code : 1509(A)
Product Description
FEATURES:
A car A/C unit belt driven with electromagnetic clutch, with control pannel, electrical motor for driving the compressor. The unit should be mounted on fabricated rigid stand with caster wheel. All parts of the model will be brand new and fitted on wooden base. The apparatus will be supplied with a protective show case unit.
SERVICE REQUIRED:
230 V, 3A. AC, supply

Floor Space: 3 Feet X 2 Feet X 3 Feet height.
SPECIFICATIONS:
Compressor 1 ton/100 C.C. capacity used in Maruti – 800 Car.

Electrical Motor Single Phase, 230 V, 1 HP, 1440 rpm, A.C. Motor (ISI Mark)
Condenser 14" x 18" size as used in Maruti – 800 Car.
Blower capacity of 1 to 1.5 Ton with three grills as used in Maruti – 800 Car.
Electrical Fan for condenser along with pipe set for connection.
Arrangement for measure & display temperature of cooled air.
Power Supply 12 Volt 6 Amp D.C.