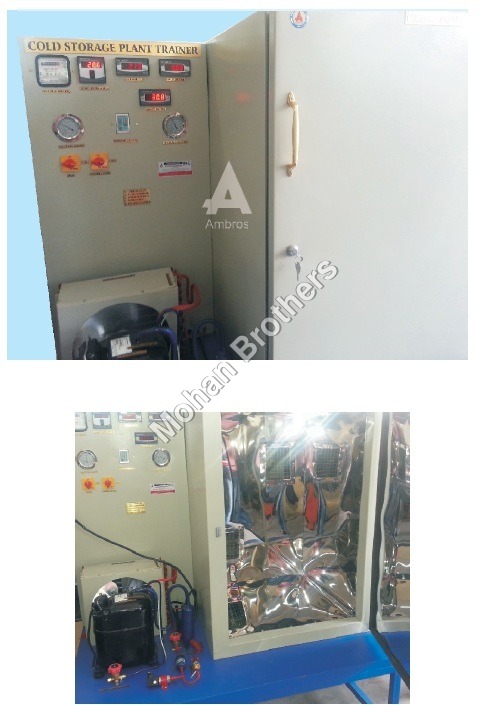 Cold Storage Trainer
Product Code : 1508
Product Description
Cold Storage Trainer:
DESCRIPTION
This unit consists of a hermetically sealed compressor with air cooled condenser. A capillary or expansion valves are next to condensers followed by medium temperature evaporators. Electrical energy supplied to the compressor can be measured by energy meter. This Test Rig is used to perform the following experiments.
EXPERIMENTS - To determine COP of unit.
TECHNICAL SPECIFICATION: -
Compressor : Emerson / Tecemshah Hermetically sealed compressor capacity.
Compressor Capacity : 0.8 Ton
Condenser : Suitable for above compressor with suitable cooling fan & Fins and
copper Tube Air Cooled.
Structure Size (Inner): 30mm x30mm x 48mm (Approx.)
Cold Storage Room: Inner chamber GP Sheet & Outer Stainless steel with insulated
Expansion Device : Capillary Tube & Filter / Drier
Pressure Gauge : 2 Nos. for high and low pressure.
Service valves : 4 Nos. Hand set valve
Refrigerant : Freon – 12 /134a
Rotameter : Suitable for Compressor capacity Glass tube Rotameter (Digital type)
Control Panel Comprising of
Main Switch
Voltmeter Digital type – 1 Nos.
Amp. Meter Digital type – 1 Nos.
Energy Meter for Compressor input.
Switches Indication Lights etc.
H.P. / L.P. cut out
Digital Temperature Indicator: 5 Nos.
Temperature Sensor (Thermocouple) : 5 Nos.
Voltage - Single Phase 220 Volts 50Hz. AC Supply
The equipment is mounted on a sturdy frame with control panel