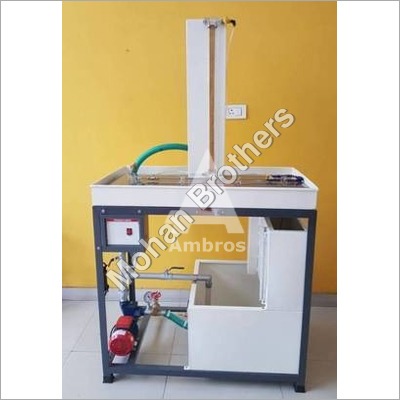 Fluid Mechanics Lab Equipments
Product Code : 444
Product Description
Among the numerous products offered by us, another reliable set of goods provided by us is our range of Fluid Mechanics Lab Equipments. Manufactured using a precision-driven set of machinery, their cutting edge technology not only gives these goods a fantastic finish but also allows us to meet bulk orders in an efficient manner. Be it Reynold's Apparatus, Bernoulli's Theorem Apparatus or other such goods, our products are given a special layer of coating which prevents them from corrosion. Keeping a high regard for quality, we make sure that each good meets the required qualitative parameters in a perfect manner. Fluid Mechanics Lab Equipments characteristics include-
Cleaning - easy and hassle-free cleaning process.
Working - runs in a noiseless manner.
Results - accurate and reliable results.
Pricing - made available to our patrons at affordable prices.
Flow Measurement Devices Specifications:
Intergratiry Type Turbine flow meter.
Glass Tube Rotameter.
Orificemeter differential manometer.
Venturimeter
Measuring Tank
Stop Watch (Digital)
112 HP Monoblock Pump.
A differential manometer.
Sump tank of suitable capacity.
To know more kindly visit Flow Measurement Devices

Forced Vortex Apparatus Specifications: -
Cylinder : Material Acrylic Dia. 200mm approx
Height of Overflow point : 150mm
Drive : FHP variable speed motor, speed way
To know more kindly visit Forced Vortex Apparatus