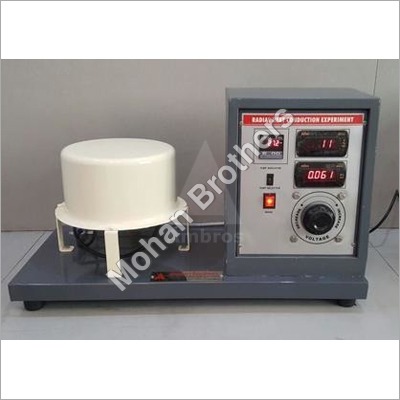 Heat Transfer Lab Equipments
Product Code : 555
Product Description
Heat transfer laboratory helps in providing industrial and primary knowledge as well as a hands on experience about different processes such as radiation, conduction, convection and many more. Keeping in view the need of students and experts to have quality and durable equipment for conducting their experiments, we serve them with Lab Equipment for heat transfer to be widely used in research and development departments and educational institutions. These equipment are designed to be used under steady state conditions for transferring heat from the surface that relies on natural radiation and convection. The mentioned Lab Equipment for transferring heat are also used for determining the coefficient of average heat transfer.
Some applications of our offered Lab Equipment are mentioned below:
In order to find the material's thermal conductivity upon the extended surfaces.
For calculating effective and efficient fin for various kinds of heat fluxes.
Measurement of distribution of temperature along an extended surface.
Plotting distribution graph of surface temperature along the fin length.
Heat Transfer Lab Equipments Names with Specification

Composite Walls Apparatus:

consists of a pair of M.S. plates, Bakelite, brass/aluminum
Mica healer of dia. 250 mm.
2 A capacity
voltmeter and an Ammeter to measure input power
230 V, A.C. stabilized supply along with earthing connection
Lagged Pipe Apparatus:

Consists of three concentric pipes mounted on suitable stand
Gl pipe (innermost) - 6 cm. (Outer Diameter).
Length of pipes 1 Meter.
Nichrome wire cartridge heater placed centrally,
Single Phase Dimmerstat
Ammeter (0- 2A)
Single Phase 230 V electric supply
Heat Pipe Apparatus

Used to transfer heat from one location to another.
Consists of three pipes, viz. A heat pipe, copper pipe
Stainless Steel pipe, 25 mm O.D., 450 mm. Long
230 VA.C. Single Phase supply.
Floor Area = 1 m X 0.5m X 0.5 m height.
Other Heat Transfer Lab Equipments:-

Specific Heat of Air Apparatus
Emissivity Measurement Apparatus
Agitated Heat Transfer Vessel
Stefan Boltzmann Apparatus
Concentric Tube Heat Exchanger
Plate Type Heat Exchanger Apparatus
Shell & Tube Heat Exchanger
Thermocouple Calibration Test Rig
Thermal Conductivity Apparatus
Thermal Conductivity of Liquid
Heat Transfer Lab Equipments
Theramal Conductivity of Insulating Slabs