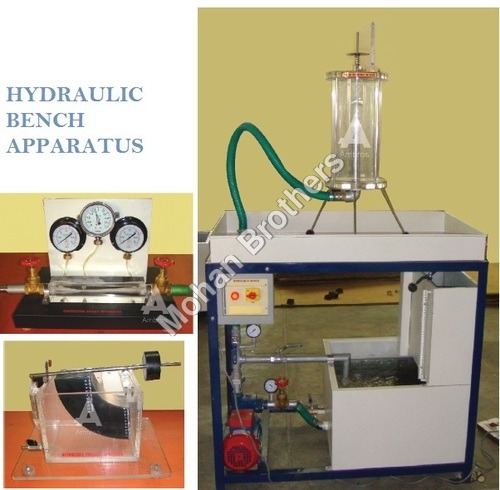 HYDRAULIC BENCH APPARATUS
Product Code : 1360
Product Description
We Are A Recognized Manufacturer, Exporter And Supplier Of Hydraulic Bench Apparatus That Is Made Available In Different Technical Specifications. This Apparatus Is Manufactured Under The Observation Of Our Diligent Professionals With The Aid Of Contemporary Techniques Using The Best Quality Components. The Offered Apparatus Is Extensively Used To Find Out The Value Of Coefficient Of Velocity And Coefficient Of Discharge. Besides, The Provided Hydraulic Bench Apparatus Can Be Bought From Us At Industry Leading Prices.
Features:
Requires Less Floor Area
Longer Lifespan
Simple To Operate And Maintain
Robust Painted Structure
Objective:
To Conduct The Experiment Of Hydraulic Bench, With Separate Experiential Set Ups I.E. Hydrostatic Pressure, Flow Over Weirs, Bernoulli Theorem, Flow Meter Demonstration, Impact Of Jet And Orifice Discharge Etc. Which Are Accessories Of The Hydraulic Bench.
Description Of Apparatus:
The Set Up Is A Self-Contained, Water Recirculation Unit Provided With A Top Tray, Sump Tank And A Measuring Tank. Drain Valve And Over-Flow Are Provided On The Sump Tank. A Centrifugal Pump Is Fitted For Water Circulation. Flow Control Valve And Bypass Valve Is Fitted In Water Line To Conduct The Experiment At Different Flow Rates.Flow Rate Of Water Is Measured With The Help Of Measuring Tank And Stop Watch. Measuring Tank Is Provided To Measure The Discharge. Drain Valve Is Provided In The Measuring Tank To Empty Water In Sump Tank After Measuring Discharge.
Separate Level Indicator And Scale Is Provided To Read The Level Of Water In The Measuring Tank.
Utilities Required:
W

ater Supply (Fill Approx 250 Ltrs Initially).

Drain Required.

220 V Ac, 50 Hz, Single Phase Electric Supply Source.

Floor Area 1.75 M X 1.50 M.
Specification:
T

op Tray :1060 Mm X 650 Mm.

Pump : 1 Hp

Flow Measurement : Using Measuring Tank (Material Ss)

Tank: Capacity 40 Ltr.

Sump Tank:Capacity 120 Ltr. Material Ss.
The Whole Set-Up Is Well Designed And Arranged In A Good Quality Powder Coating painted Structure.
Range Of Experiments:-
Following Experiments Can Be Carried Out With Common Basic Table With Separate Experimental Setup (supplied At Extra Cost), Which Can Be Connected To Hydraulic Bench With Flexible Pipe.
Bernoulli Theorem Apparatus

Orifice And Mouth Piece Apparatus

Flow Measurement By Venturimeter And Orificemeter

Losses Due To Friction In Pipe Lines

Losses In Pipe Fitting And Pipe Bends

Reynold's Number Study
Flow Over Notches

Impact Of Jet On Vanes

Pitot Static Tube