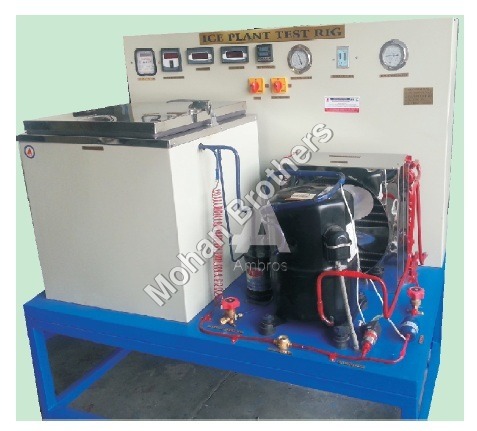 Ice Plant Trainer
Product Code : 1502
Product Description
Ice Plant Trainer :
The Plant uses ice can system. The cans filled with fresh wafer are kept in a tank in which brine is circulated. The brine is cooled by the refrigerant, which in turn cools the water in can and ice formation takes place.
Specifications:
Compressor : kirioskar make hermetically sealed compressor using r 12 refrigerant.
Condenser : 4 row type air cooled.
Expansion Valve : 0.5 tr capacity.
Evaporator : 1/2″ o.d. copper tube – 75 feet long.
Filter – drier : silica gel filled – 3/8″ flare connections.
Main Tank : 600 mm x 375 mm
Total Ice cane capacity : 7 kg
Ice Making capacity : 7 kg / 4 hours.
Thermocol Insulation : 6.5″
Brine Stirrer : motor driven fan, 1 phase, 1/10 hp, 1440.
Instrumentation:
Temperature Indicator : digital type o300°c, with 1 °c least count, using cr/al thermocouples.
Accuracy 1 % of full reading.
Compressor Energy meter : single phase, 10 – 20 amp. Capacity.
Pressure Gauge:

0-21 kg/cm2
-1 to 10.6 kg/cm2
both of 65 mm dial.

Digital Thermometer Controls :
HP/lp cutout : auto reset type.
Thermostat : auto reset type.
A technical manual accompanies the unit.
Services required:
Floor Area – 2m. X 1.5m. X 1.5m. Height.
220 v., 15 amp.Single Phase stabilized power supply