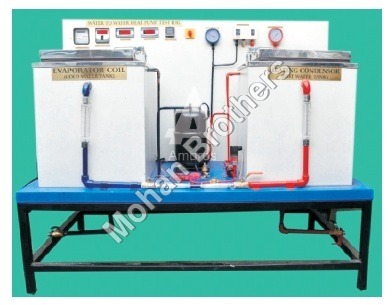 Mechanical Heat Pump Trainer
Product Code : 1507
Product Description
Mechanical Heat Pump Trainer:
Heat Pump is a device to pump heat from one source to another. The heat obtained by heat pump is more than that could be obtained by direct electrical heating. The apparatus consists of refrigeration system with water cooled shell and coil type evaporator and condenser.
Specifications:
Compressor – Hermetically sealed compressor using R-12 refrigerant, having capacity 0.3 tons of refrigeration. Condensing pressure – max. 15 Kg/cm2 (Actual pressures will depend upon working conditions).
Condenser – Shell and coil type with continuous water flow arrangement.
Evaporator – Shell and coil type with continuous water flow arrangement.
Expansion Valve – Internally equalized thermostatic expansion valve.

Measurements –

Rotameter for condenser & evaporator water flow rate measurement.
Rotameter for liquid refrigerant flow measurement.
Pressure gauges for condensing and evaporating pressure – 2 Nos.
Thermometer for refrigeration cycle & water temp, measurement – 7
Wattmeter for compressor input measurement.
Ammeter for compressor current measurement.
Controls –

HP/LP cutout for compressor.
Overload protector for compressor.
Gate valve to control water flow rates.
Necessary switches and fuse.
A technical manual is accompanies the unit.
Services required:
Floor surface area – 2m, X 2m. X 1.5m. height.
220V. 15Amp. Single Phase Stabilized power supply.