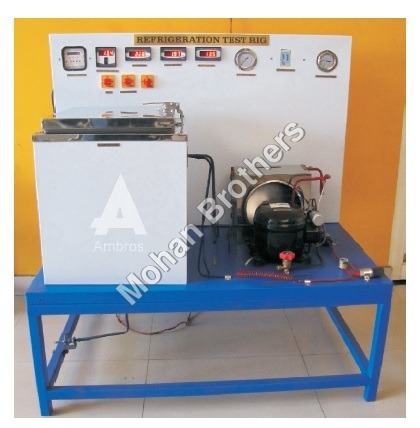 Refrigeration Trainer
Product Code : 1500 (A)
Product Description
Refrigeration Trainer - General Cycle Type:
The unit consists of vapor compression refrigeration cycle provided with components normally used in refrigeration system so that student can get familiar with the components. Various measurement provided enable students to estimate the performance of the system.
Specifications:
Compressor- hermetically sealed compressor, having capacity of 0.3 t.
Expansion Devices

thermostatic expansion valve
capillary tube.
Evaporator Coil.

Controls:

services valve
solenoid valve
filter-drier for refrigerant
high/low pressure cutout
thermostat.

Measurements:

thermometers (mercury in glass) – 4 nos.
pressure gauges for condensing and evaporating pressure.
energy meter for compressor
voltmeter and ammeter for compressor.
rotameter for liquid refrigerant flow measurement.
A technical manual is accompanies the unit.
Services required
Floor Surface area – 1m x 2m x 2m height.
220v, i5amp, single phase stabilized power supply