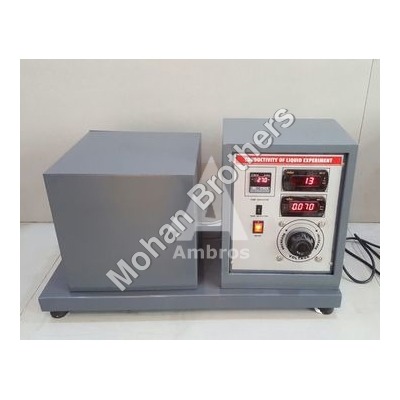 Thermodynamics Lab Equipments
Product Code : 333
Price And Quantity
Minimum Order Quantity

:

01
Product Description
With innovation being one of our forte's, we aim at delivering some of the most impressive set of Thermodynamics Lab Equipments to our customers. Known for giving a promising set of results, such products would never fail to amaze you with their functioning. Delivering an excelling performance every time you use them, these Single Stage Air Compressor Test Rig, Rotary Air Compressor Test Rigs and other such products come with a Digital temperature indicator which provides a great level of ease and convenience to the user.
The features which makes these Thermodynamics Lab Equipments widely chosen among both national and international markets are-
Trouble free functioning - runs in a faultless manner while exceeding your expectations beyond all doubt.
Easy Installation - installing a product has never been this easy. A few minutes, and you're goods are ready to go!
Accurate output - spot on results, guaranteed.
Resistance - these goods have a strong resistance when it comes to corrosion, thus making the good live to serve for a longer time period,
Single Stage Air Compressor Test Rig Specifications:

Pressure gauges at outlet on both stages.
Digital temperature indicator.
Energy meter to measure input power.
To know more kindly visit Single Stage Air Compressor Test Rig
Centrifugal Blower Test Rig Specifications:

Ventura with water manometer to measure air flow.
Water manometer to measure discharge pressure.
Discharge pipe with flow control valve.
To know more kindly visit Centrifugal Blower Test Rig